6 Tips to Keep Your Car Safe
03/01/2014
Back To Blog
Do you know how many jobs depend on good cars? Do you know how many corporations base their day to day delivery of goods or transfer of money on fast company vans? Cars have become the basic transportation means many years ago and that's why their technologies are still developing. Manufacturers strive to make them safer on the streets, childproof and greener. On the other side, car theft is thriving and thieves manage to steal even modern cars, which work with a transponder key. Though, the stealing of the car has never been so easy due to longer hours in the streets, larger number of vehicles and thanks to the tendency of people to forget or lose their ignition car key.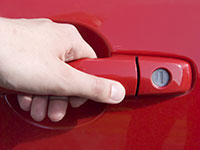 6 simple rules for greater safety
The truth is that modern people have a lot in their mind and they can be forgetful. Though, anything that concerns security matters must be given priority to the little gray cells as Hercule Poirot would say in order to avoid hassle or even putting your life in danger.
Always carry with you an extra car key and if you don't have a spare, you should have a car key made. It is actually wiser to have a third one locked in a safe deposit box or have it locked in a safe at work or home just to be sure that you won't be locked out of the car.
The basic idea of a garage is to provide space for the protection of your vehicles. Hence, do it. Park your car inside the garage and never leave the keys on the engine or seat.
Don't trust your keys to people you are not acquainted with well.
If you have problems with the keys or the locks, you should have them checked the sooner possible and even proceed with car locks change to avoid trouble in the immediate future.
Don't leave the keys anywhere, but keep them in your pocket or bag. It's easy to lose or forget them if you leave them on the table of a restaurant.
Don't trust the keys to children because you will be handing them over a dangerous game. They might lose them or start the engine themselves. Lost ignition keys would be trouble, but young drivers could be a tragedy.